One UI
Your Galaxy.
Your way.
One UI 5 is exceptionally compelling in personal optimization, making your every day
effortless by allowing you to get things done easily across all your Galaxy devices.
Customize your Galaxy experience the way you like it, and design
it to express yourself with the tips of your fingers.
*Image simulated for illustrative purposes. Actual UI may be different.
*Available functions may vary depending on the device, country, region, carrier, or the version of One UI.

Your phone, your look, your style


|


Make your screen the way you like it
- easier than ever




Simply touch and hold the lock screen to set the wallpaper, clock style and notification easily all in one place. You can also trim a video on the lock screen to create a lively wallpaper with one of your cherishable memories.

Decorate the lock screen and home screen with ready-made images, videos, gradient colour backgrounds and filters to make the screens just the way you like them.
*Image simulated for illustrative purposes. Actual UI may be different.
Feel free to be more expressive
Express yourself with watch faces that suit your preference and lifestyle. Complete a new look every day with interactive watch faces when a notification is received, the battery is low, health goals are met and more.
Also, style your cover screen on Z Flip series with a wider array of Galaxy themes to choose from.
Use video as wallpaper to make your cover screen more fun and dynamic.
*Image simulated for illustrative purposes. Actual UI may be different.
Keep your work flowing on Galaxy


|

Do multiple things your way
Enhance your daily productivity with Galaxy's powerful multitasking features.
Use split screen view or pop-up view to multitask in your own way.
Easily launch Multi Window from the Recent apps list, Apps edge or with two finger swiping on your Galaxy. Just drag an app from the Taskbar on Galaxy Z Fold series or Galaxy Tab to instantly create Multi Window. Save the Multi Window settings on App pair and have the same apps and layout up and running with a single tap. 1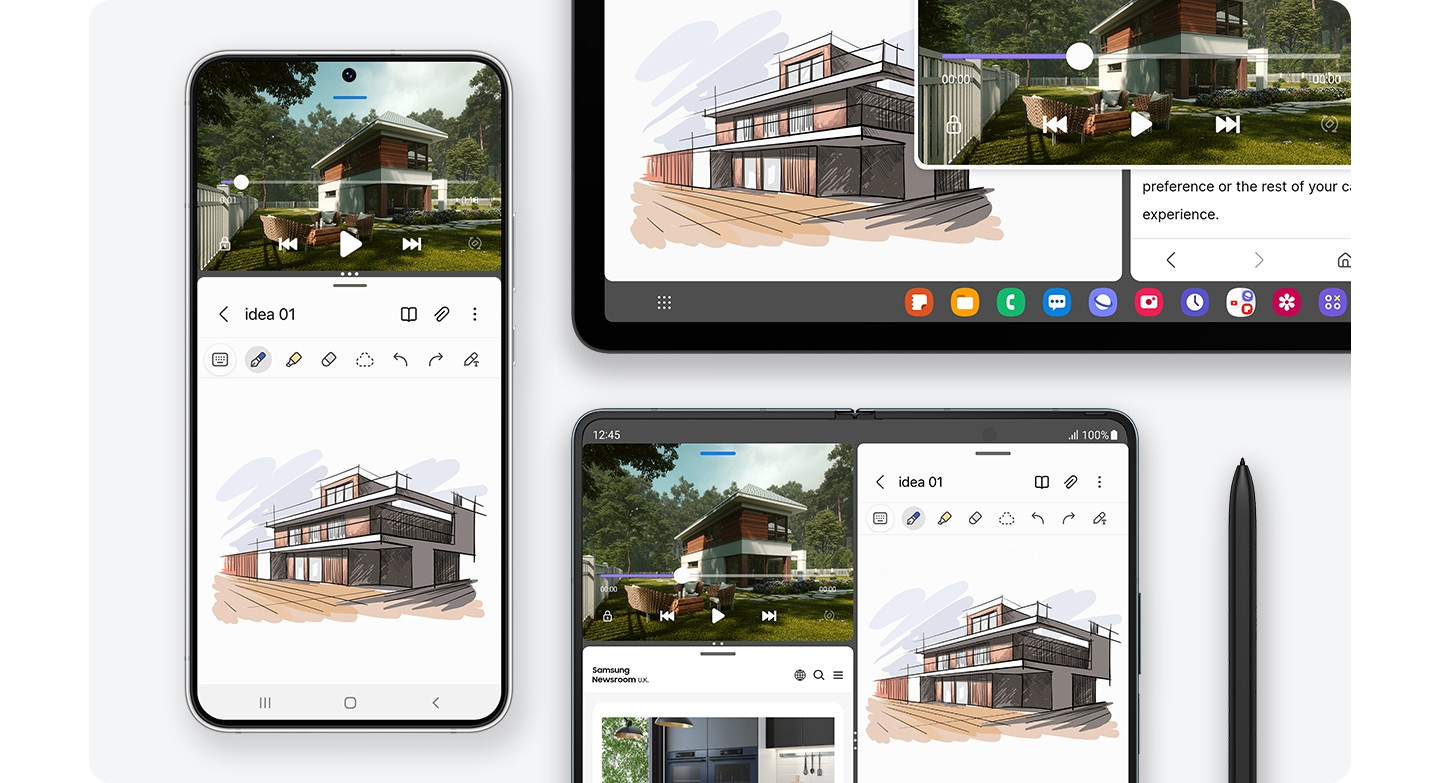 Turn any Galaxy device into a mobile office


One UI enhances your productivity wherever you are, even when you're on the move. Your Galaxy devices are good companions to run Microsoft 365, anywhere and at any time. Open multiple documents at once with Multi Window to cross-reference documents, and edit swiftly using S Pen. When sending a file on Microsoft Outlook, you can add drawings with S Pen in the email body for any additional explanation needed. 2
More joyful ways to get in touch here and now


|

Rich and seamless communication across Galaxy
Galaxy offers a vivid and seamless communication experience across devices. Enjoy high-quality Google Meet video calls with our premium cameras and deliver your voice crystal clear even when your surrounding is noisy. During the call, you can easily switch to other devices such as Galaxy Tab, PC or even TV and continue talking. 3
*Image simulated for illustrative purposes. Actual UI may be different.


Talk, watch and listen together
Enjoy more things with your friends, loved ones and so on with live sharing on Google Meet integrated into Galaxy devices. You can watch your favorite videos and creators on YouTube, listen to music on Spotify or YouTube Music, and even play games together during a video conference.
Google Meet is optimized for Galaxy Z Flip and Z Fold series, so you can have a convenient hands-free video chat. Also, you can have a video meeting with up to 100 participants. 4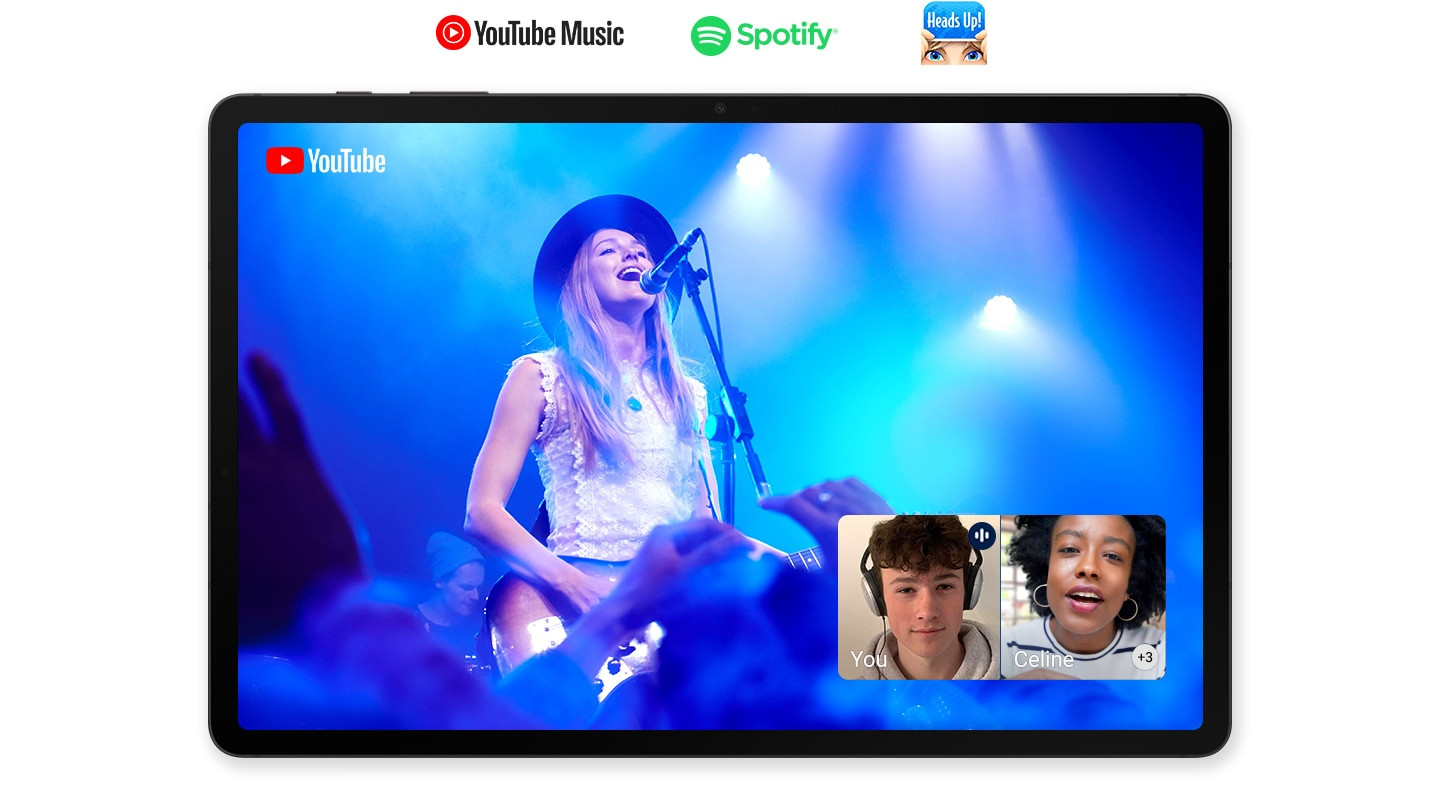 Make everyday moments epic
|
Light up the motion with Nightography
Shoot a clear, bright video at night with the optimal frame rate automatically controlled by the level of illuminance. Super night solution reduces noise on videos taken at night. Super steady system minimizes shakiness for a stable recording while moving or walking. 5


New way of capturing
Take a great selfie shot even when your phone is closed. The high-quality rear camera makes the photo clearer and adds depth so that your face looks lively. On the cover screen, you can check the ratio of the shot as you shoot. Continue to shoot seamlessly when you open your phone to change to Flex mode. 7
*Image simulated for illustrative purposes. Actual UI may be different.


A balanced digital life for everyone
|
All spoken assistance in one place


Check if what you have typed in is correct by listening to the word or phrases that are entered and keep the conversation going. Using the camera, you can also recognize the object, text, colour and scene in front of you.
Also, all functions that assist people with visual impairment or poor eyesight can be found conveni
*Image simulated for illustrative purposes. Actual UI may be different.
Make your life smarter and healthier
|
Together through all the journeys toward personal health goals


You can keep track of your daily steps, exercises, sleep and more throughout the day on Galaxy Watch. All meaningful data such as active calories and heart rate is automatically synced to your Samsung Health. Check the detailed report on your device and also receive status updates during workouts to motivate yourself in achieving your fitness goal. 9
*Image simulated for illustrative purposes. Actual UI may be different.


No more fuss thanks to 'Notify when left behind'
Some of us often leave our belongings behind and end up losing them. Now, with SmartThings Find's 'Notify when left behind', you can get a proactive reminder on your devices before you walk away from your valuable items. The alert stops once you are reconnected with the devices registered on SmartThings. Also, when you leave it behind in a preset safe location, such as your house, the alarm will not go off. So rest easy and simply leave your worries behind. 10
*Image simulated for illustrative purposes. Actual UI may be different.
Your privacy. Secured.
|
Own your privacy for peace of mind


If malware was detected or security update is required, Samsung Galaxy lets you know in a timely manner and guide you accordingly. You can also view the security status of your phone at a glance and get the diagnosis quickly on the security and privacy dashboard. Also, when sharing personal information such as passport, credit card, etc., your phone warns you and suggests Private Share. 11


You can find the schedule for One UI upgrades from Notices on the Samsung Members App.

You can download and install Samsung Members from Galaxy Store.



Samsung Members Galaxy Store