Add To The Wash, During The Wash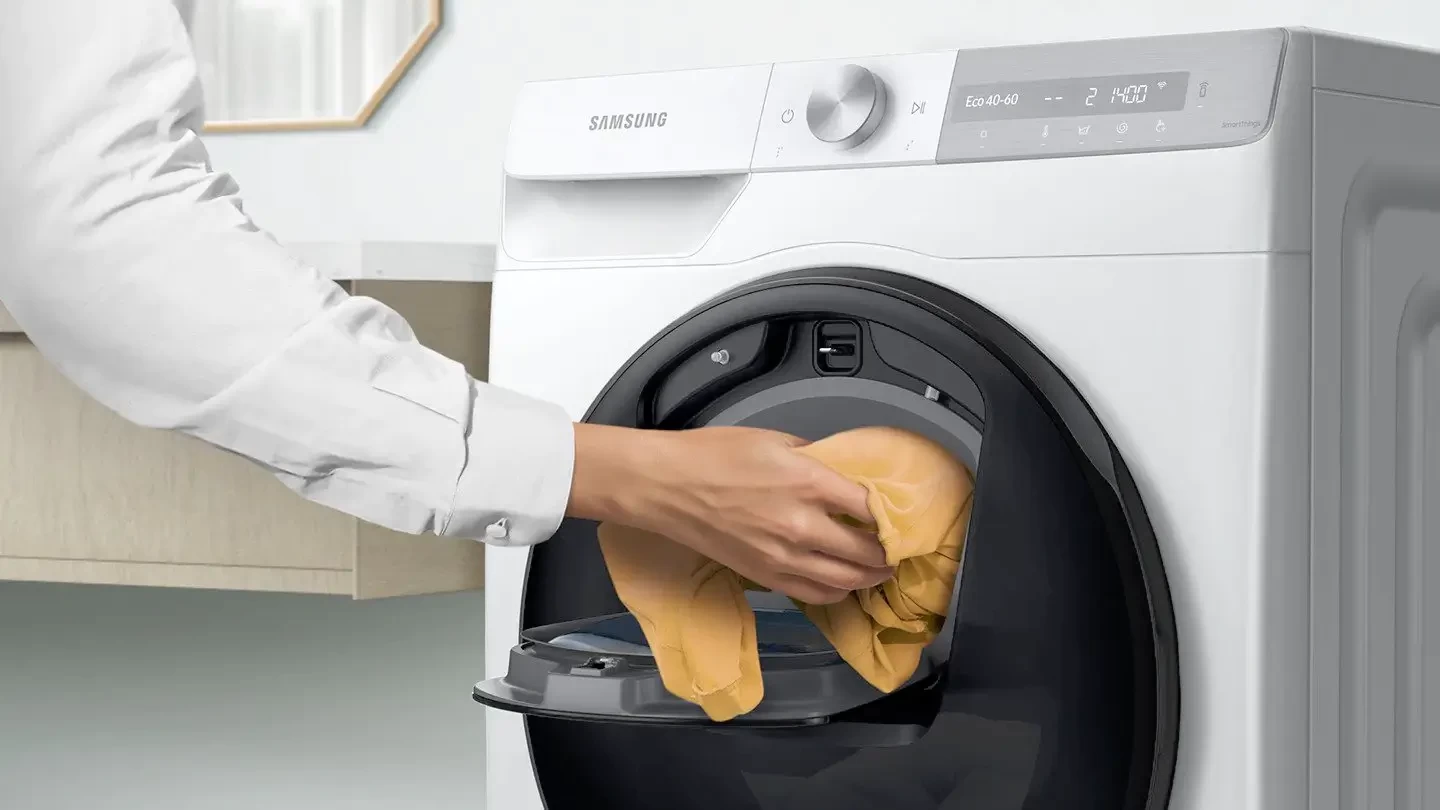 How frustrating is it when you put the washing machine on and discover a stary sock on the stairs? Not anymore. The addwash door lets you quickly drop in anything extra during the wash.
Fast washes for busy lives
39min Wash


No one wants to waste time waiting for the washing to finish. That's not an issue with our Super Speed cycle. Get an entire 5kg load of laundry clean in just 39 minutes with your Samsung washing machine.
Clean machine, spotless clothes
Drum Clean


Looking for the cleanest clothes? It all starts with a sparkling washing machine. Drum Clean keeps the inside of your washer hygienically clean with a combination of soaking, pulsating and high-speed spinning that removes 99.9% of odour-causing bacteria* from the drum, without using any detergents. And it even reminds you after 40 washes to run a cleaning cycle. The best news? Good maintenance will save you some money in the long run.
Stain solver
Bubble Soak


Meal time mess or grass stains? Whether it's cotton, synthetics or baby clothes, add a 30-minute bubble soak to your wash. Then let our unique ecobubble™ technology go deep into the fabrics to loosen stubborn stains. You'll love how brilliant it gets your whites.
Samsung Washing Machine WW90T854DBX/S1 09KG Specifications and price in Bangladesh
| | |
| --- | --- |
| Chipset | 24 Month |
| Chipset | 12 Month |
| Chipset | 120 Month |
| Chipset | 9 KG |
| Chipset | Yes |
| Chipset | Yes |
| Chipset | Yes |
| Chipset | Yes |
| Chipset | Yes |
| Chipset | DIT |
| Chipset | Yes |
| Chipset | 1600 rpm |
| Chipset | Yes |
| Chipset | Yes |
| Chipset | Yes |
| Chipset | Yes |
| Chipset | Yes |
| Chipset | 600 x 850 x 600 mm |
| Chipset | 77 kg |
| Chipset | 666 x 890 x 697 mm |
| Chipset | 81 kg |
Manufacture information
Manufactured by
Harman International
Imported by
Samsung India Electronics Pvt. Ltd. having its Corporate Office at: 6th Floor, DLF Centre, Sansad Marg, New Delhi-110001
Contact us
For All Product Related Complaints/assistance, please contact Samsung India Electronics Pvt. Ltd., 6th Floor, DLF Centre, Sansad Marg, New Delhi - 110001 Email us at: [email protected] Tel (Toll Free): 1800 40 7267864 (1800 40 SAMSUNG)