All-in-one Solution


Enjoy the convenience of doing any type of washing you need in one place. The New ActivWash+ is an all-in-one solution for hand and pre-washing clothes, using a dedicated sink with extra waves for better scrubbing. Its built-in water jet is controlled using an easy to reach button inside the sink.
Durable & Powerful


Enjoy a long-lasting, powerful performance with less energy and noise. The new Digital Inverter Technology uses strong magnets to provide outstanding durability and power.
Powerful & hygienic


Make sure your clothes get a deep and intensive wash. A Stainless Steel Pulsator has 6 blades that create a wide and powerful shower of water, which removes dirt effectively and rinses everything thoroughly. And the scratch resistant blades inhibit bacterial growth, so your machine is more hygienic.
Gentle clothes care


Stop clothes from getting tangled up and damaged. Wobble technology provides gentle care of fabrics. Its Wobble pulsators generate a dynamic, multi-directional washing flow that prevents tangles, twists and knots. It also gently and thoroughly cleans your garments with its increased washing power.
Dissolves detergent


Wash without worrying about residual detergent. A Magic Dispenser creates a powerful water vortex. It dissolves liquid and powder detergent and disperses it evenly before the wash cycle starts. So it keeps the detergent box clean and minimizes the risk of any residue being left on your clothes.
Powerful filtration


Keep unsightly speckles off your whites and darks, and protect your drainage from getting clogged up. A Magic Filter gathers the lint, fluff and particles that come out of your laundry, so your clothes always appear spotlessly clean. And it's easy to empty, so you can keep it working efficiently.
Intensive cleaning


Keep clothes looking spotless, however dirty they get. With the touch of a button the Intensive Wash function helps remove a wide variety of stubborn stains, like blood. It quickly pre-mixes detergent and enables the water to penetrate deep into the fabric. So dirt can be removed more effectively.
Keeps the tub clean


Keep your top load washer fresh and hygienically clean, while being eco-friendly and saving money. The Eco Tub Clean course removes dirt that can build-up in the drum and around the door gasket without harsh or costly detergent. And it will even notify you automatically when it needs cleaning
Stylishly ergonomic


Enhance your home with a streamlined and ergonomic design that looks good and lasts longer. The curves of its round edged design are beautifully elegant. A slanted, dual cluster control panel, with an ice blue LED display, provides clear information. And a glass door makes it easy to see inside.
Easy closing door


Avoid being frightened by unexpected bangs!The Soft Closing Door shuts safely, gently and silently, as a damper automatically slows its movement.A tempered glass window also lets you view your washing without lifting the lid.And it's very durable and strong, so it won't get scratched or damaged.
Easy troubleshooting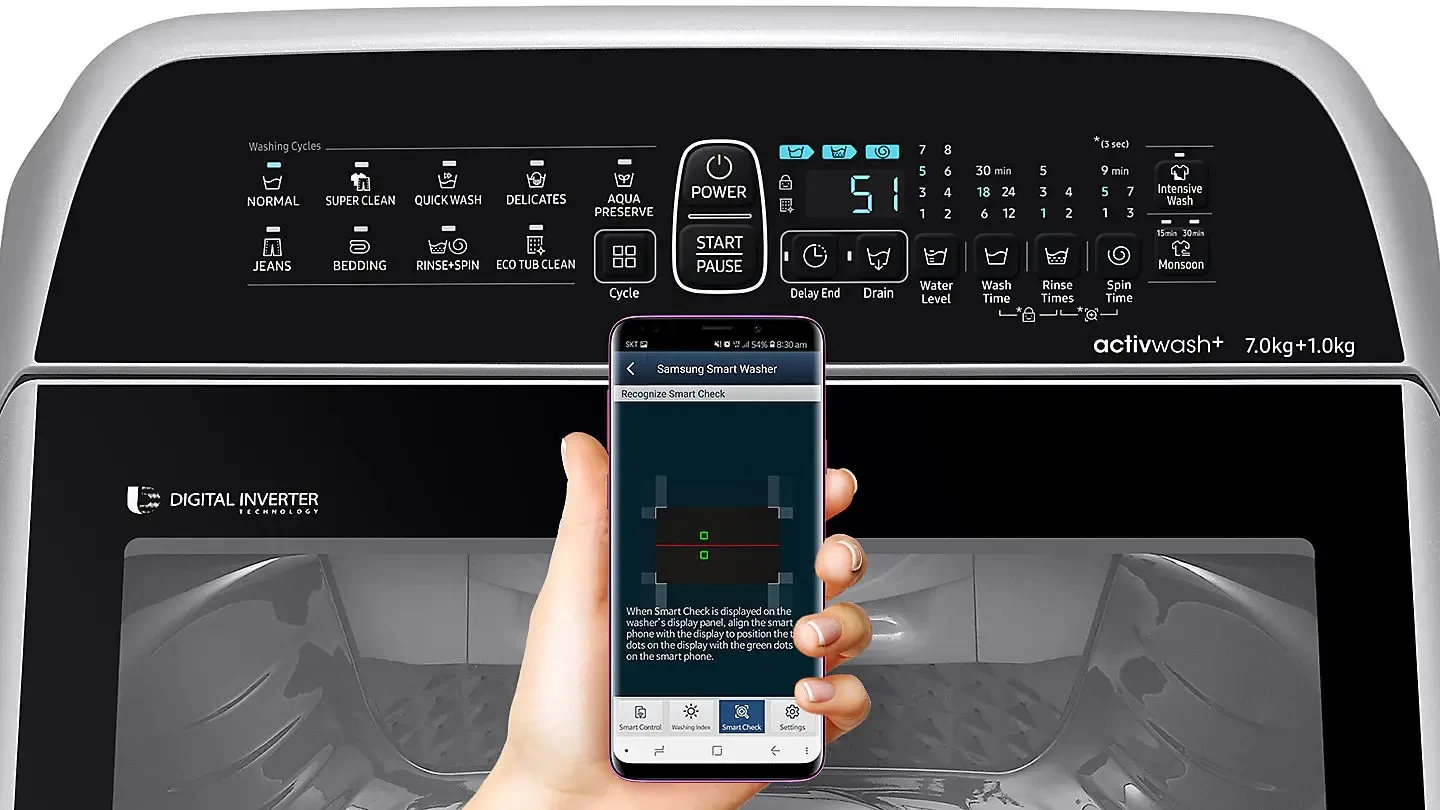 Avoid the cost and inconvenience of a broken machine. Smart Check technology is an automatic error-monitoring system. You can use it anytime, anywhere with a smartphone App. It detects and diagnoses problems and provides quick and easy troubleshooting solutions. So it saves you time and money.
Soft on your clothes


Protect your clothes from being damaged.The Diamond Drum's unique "soft curl"design washes clothes very effectively,while treating them with care.Its smooth,diamond-shaped ridges are gentle on even delicate items.The small water exit holes also prevent fabric from becoming trapped and damaged.
Samsung Washing Machine WA70N4560SS/IM 7.0 KG Specifications and price in Bangladesh
| | |
| --- | --- |
| Chipset | 24 Month |
| Chipset | 12 Month |
| Chipset | 144 Month |
| Chipset | 7.0 kg |
| Chipset | Yes |
| Chipset | Ice Blue LED |
| Chipset | Yes |
| Chipset | Yes |
| Chipset | DIT |
| Chipset | Yes |
| Chipset | Yes |
| Chipset | Yes |
| Chipset | 540 x 992 x 568 mm |
| Chipset | 31 kg |
| Chipset | 582 x 1057 x 640 mm |
| Chipset | 35 kg |
Manufacture information
Manufactured by
Harman International
Imported by
Samsung India Electronics Pvt. Ltd. having its Corporate Office at: 6th Floor, DLF Centre, Sansad Marg, New Delhi-110001
Contact us
For All Product Related Complaints/assistance, please contact Samsung India Electronics Pvt. Ltd., 6th Floor, DLF Centre, Sansad Marg, New Delhi - 110001 Email us at: [email protected] Tel (Toll Free): 1800 40 7267864 (1800 40 SAMSUNG)